Remote Control Software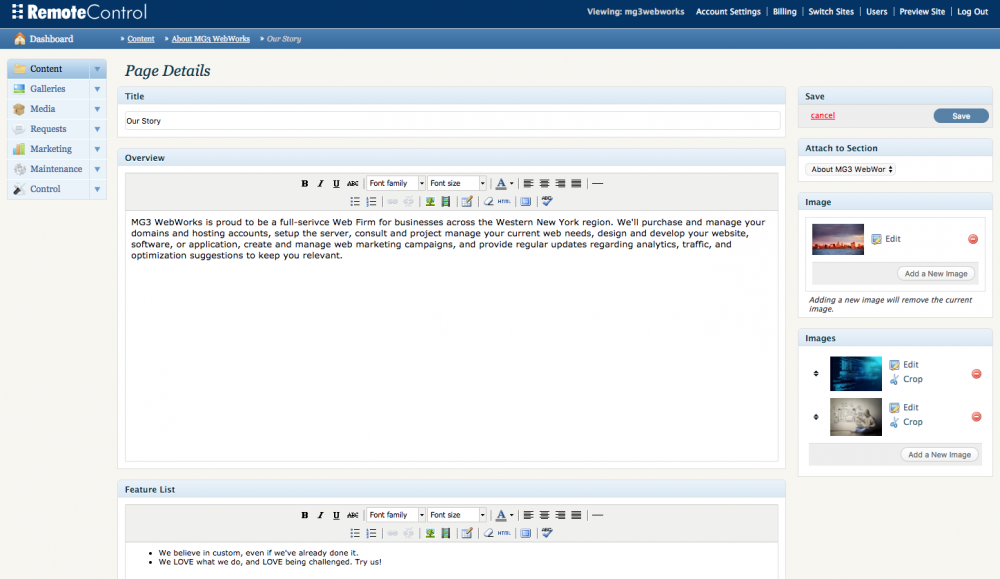 MG3 WebWorks has developed and branded our own custom-developed Content Management Solution appropriate titled "Remote Control". In short this flexible web-based system allows all of our clients to manage the text, images, news feed, slideshows, customers, products, search engine data, etc... of their web product(s) from anywhere.

Get started with your new web product today.
What makes the real difference?
While most CMS applications are one-size-fits-all, offering clients an overbearing, difficult to understand approach at managing their web product, Remote Control offers the contrary, providing editing options custom-fit to the look and feel of your website.

No matter how big or small, this application will prove useful, reliable, and essential in a time where "content is king".
What can we offer?
Easy Text Editing
Simple Image Upload
Video Embedding
e-Commerce Management
Website Member/User Management
Contact Request Submissions
Mailing List Submissions
Social Media Publishing
Our experienced team has worked with dozens of businesses in the greater Western New York & Buffalo region since 2004. From websites to custom applications, developed and marketed, let's start your web project today!